Description
NOVOL UNI Car Body Filler Universal Hard Putty Dent Repair 4kg with Hardener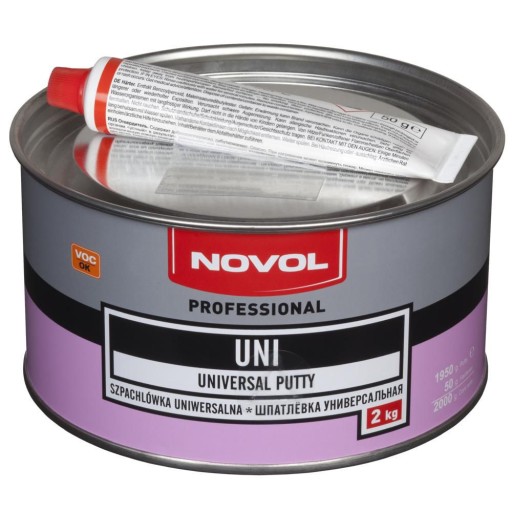 Novol Universal Body Filler Putty 4Kg
UNI basic putty in our range.
Relatively hard and not very flexible. it is
recommended mainly for machine sanding and repairing of small surfaces.
It has good adhesion to various substrates except
galvanized steel.
Applied to substrates such as
Polyester laminate Steel
Aluminium
Component acrylic primers
Old paint coatings
3940g Putty 60g Hardener
Colour: Beige
Mixing ratio
UNI putty – 100 parts by weight
Hardener – 2 to 3 parts by weight
Drying time
From 20 to 30 min. At 20 C.
VOC limit. (Cat. II / B / b) = 250 g / l
VOC <90 g / l
Do not apply directly on the ground reactive (wash
primers). one-component acrylic and nitrocellulose.
How to use
Mix very well until even in colour
Follow the recommended amount of hardener 2-3 : 100
Apply a layer of no more than 3 mm thickness

The minimum temperature required for application is +
10 C.
Items purchased before 12PM on working Days (Monday-Friday) will be dispatched same day via My Hermes